Brought you by: www.criaderodecaracoles.com
Have you ever thought that the best option to evaluate were not the exams?
Singapore every day opts for change and improvement but with a very humanistic approach, it is credited with being recognized by the best educational level on the planet by the OECD.
Now he has eliminated the exams in the schools, thinking about his students. Why? Well, the educator Débora Kozak, author of the blog "Think school" is one of the many voices that are against the exams in the classroom.
"Some people argue that the practice of exams prepares for adult life, and although it is true that sometimes you go through situations of this type in your work, in a contest or similar experience to access a position, is it necessary to train throughout childhood and youth just to go through that moment? Is not it a bit absurd? "He asks.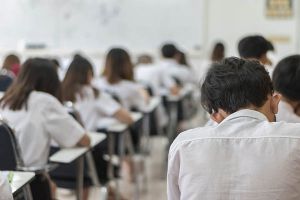 Although this measure only applies to basic education students, the initiative seeks that children forget the pressure, fear, anxiety and stress that results from taking an exam.
"We must balance the fun of learning and the rigor of education," said Minister of Education Ong Ye, recently announcing the proposed changes to Parliament.
It is the first time in 55 years of history in which the Ministry of Education gives in to the authoritarian regime puts the mental health of their students before their "school obligations".
Just as it is a great country in education, it is also the most stressful for its students, which has led to an increase in the suicide rate that reaches 10.03 per 100,000 inhabitants, well above the average of suicides worldwide.
The students spent 9.4 hours a week studying or doing homework after leaving class. As of the next school year, the exams at the school will be finished for the first and second year of elementary school and the first year of secondary school.
According to the newspaper "Semana", priority will be given to the arts and recreation, putting them first and leaving mathematics and exact sciences second.
Singapore is also recognized by the BBC as the cleanest country in the world, the World Justice Project organization as the safest country on the planet.
Source: Los40